THE RESCUE PROCESS
All of the dogs we rescue are placed within our foster care program until they are adopted by families who have made a lifetime commitment to adopt our rescues. Through our foster program, our rescues have a safe place to live until loving homes can be found for them. Our rescued dogs live with their foster families and receive the same love, care and attention as our own family pets.
While in foster care, our rescues receive medical attention and live life as a dog should..happy to be with a family and being loved! Personalities of dogs in home settings are more easily accessed and provide us with a more accurate profile for each rescued dog. The foster caregivers help us by providing an overview of the personality of the rescue dogs in their care which helps us determine what type of family would best fit that particular dog's needs. All of our dogs are spayed or neutered prior to adoption and receive up-to-date vaccinations including rabies. Our foster families are welcome to adopt their foster dogs, within limits, if they find their perfect match!
Please contact us at dinorescueorg@gmail.com for all inquiries, allowing a minimal of 24-48 hours response time and please note we require that you to fill in an adoption questionnaire. All applicants will be screened, we work on a first come first serve adoption basis and DINO holds the right to deny any application they see fit for the best interest of the animal requested.
PetFinder can sometime experience some technical issues and can not display pictures, please go directly to our
Sorry for the inconvenience.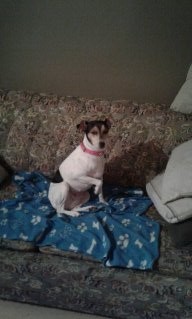 Jack Russell Terrier
Up-to-date with routine shots
Spayed/Neutered
Jaki is a 4 ½ year old Jack Russell Terrier X. She is spayed, microchipped and current on vaccinations, She came to Canada at the end of December and rang in the New Year as a "Canadian". When Jaki first arrived she was extremely timid, due to living in a shelter for a long period of time when she was in Mexico. After being in her foster home for less than a week she started to come out of her shell and turned into a totally different dog. Since being in a loving foster home Jaki has become a more confident and affectionate dog. She can be very timid when she meets new dogs and may bark or growl in fear. Once she feels safe she will slowly learn to play and make friends. While living in her foster home, Jaki has also gotten familiar with cats. She's discovered that they're lots of fun to chase…but she never hurts them. Jaki loves to run in the yard and roll in the grass. She is very good on the leash and loves to go for walks, and has very good recall. She is kennel and house trained. Jaki is extremely loving and wants to be with her person whenever she can. She loves to cuddle up next to you on the couch just to be close to you. An ideal forever home for Jaki would have a fenced yard that she can play in and active people to bring her for walks. As Jaki has never been around young children, a home with teens or just adults would be ideal.
Adult, Female, Small